Thank you for purchasing a 21.COMMERCE Shop from Swiss21.org and PepperShop!
This document describes the first steps after activating your shop system. As a 21.COMMERCE Shop Administrator, you will be guided through the most important configuration steps in this document and will be explained the first administration tasks. At the very end of the document there are hints and tips.
Legal aspects of the operation of an e-commerce system are also described.
Operating the 21.COMMERCE System Administration:
navigation of the system administration (main and sub menus)
input field to browse navigation / button at the top: collapse left navigation
shopping cart = change to customer page, floating ring = help for current page content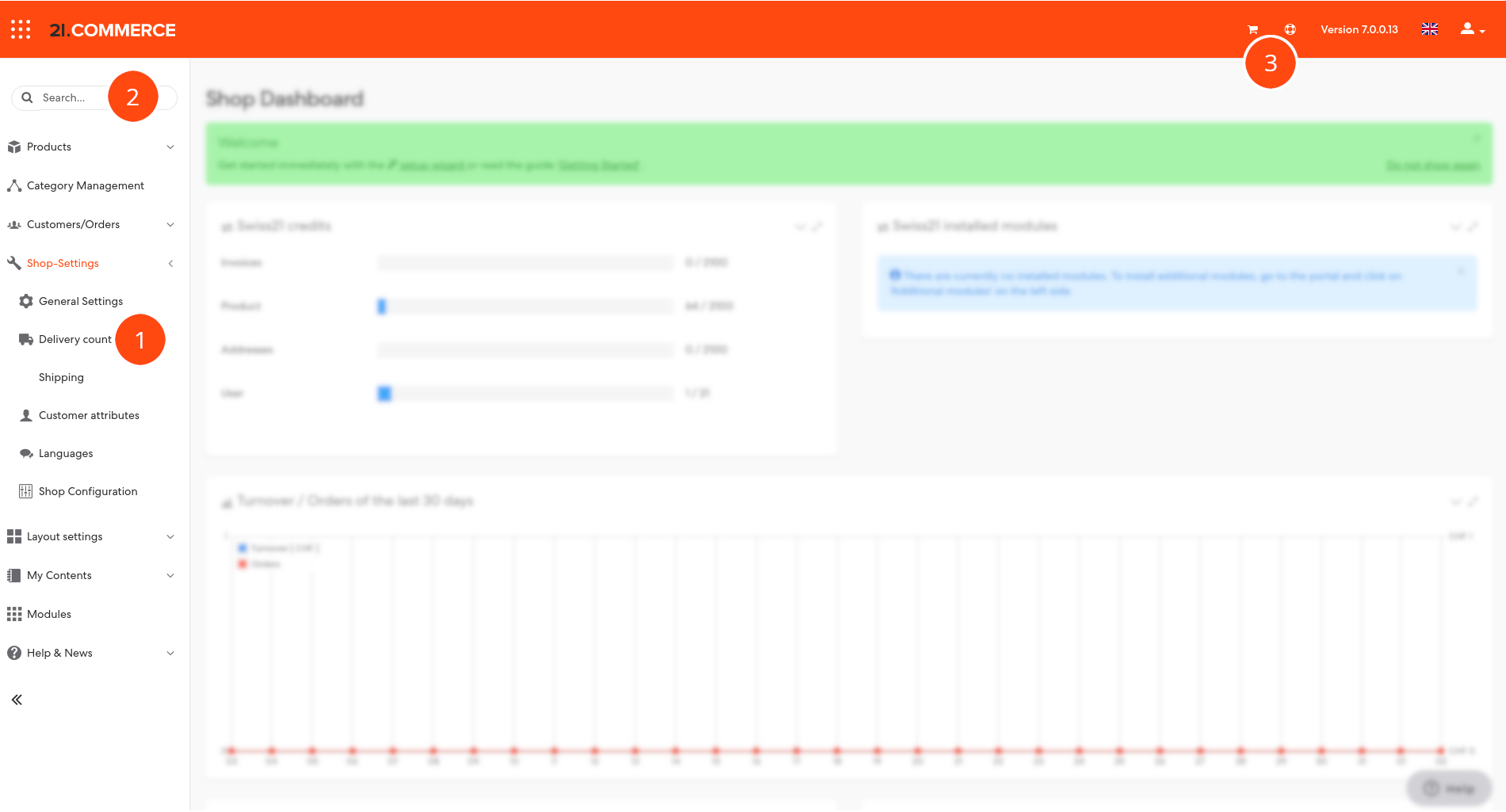 Figure 1: PepperShop Administration (main menu)
Initial configuration of the shop system
Then you should go through the following menus in System Administration one after the other to adapt the shop system to your own needs. If you have any questions about the individual settings, you can click on the help button below:
Shop settings
General Settings

Address, e-mail and VAT details, payment methods and a setting for articles: The conversion of article characteristics (variants) for parent articles and subarticles1.

Delivery countries and shipping

You can activate payment methods and specify fees and shipping methods for each country group. For each type of shipment their costs depending on the type of billing.

currency settings

Activate other currencies here and enter the exchange rate.

languages

Your shop can be operated by the customer in several languages (shop settings → Languages).
Layout settings
Open the section Layout Settings in the main menu. You will find the following subcategories:
Themes / Layout Management

Here you select a theme and adjust the design in Layout Management.

Upload shop buttons (buttons) and images (background & shop logo)

Most shop buttons are now created via CSS and dynamically rendered via layout management. However, some graphics are still used in the system. These can be replaced here with your own files – e.g. stock indicators.

Upload pictures

Here you can upload background images and your shop logo in various formats. Info: For the upload of your shop logo we recommend the use of the setup wizard. This will also calculate all required variants for you (mobile, mail/print, …).
Entry of the assortment
Category management
First create the categories in the category management. This is where the articles are later classified. The pre-installed demo categories can be easily deleted / ignored. The desired action can be selected by calling up the category.
Article
Now the articles are registered via 'Article' -> 'Register new article'. An example assortment is available after a new installation.
If you are working with variants per article, you should decide early whether you want to use the easy-to-administer standard variants of the shop, which do not allow multilingual variants and inventory management per variant. Alternatively, you can use the parent and subarticles to use the characteristics in the shop without the disadvantages mentioned. Details: Parent/Subarticle PDF Guide. The switch for the variants can be found in 'Shop settings' > 'General shop settings' > 'Edit article'.
Statutory adjustments: AGB and Imprint
In the 'Shop-Administration' > 'General settings' in the tab 'Customer info / Revocation / General terms and conditions' the general terms and conditions have to be used. Rule at least jurisdiction and revocation.
Own content
The imprint is linked by default for each page visible in the footer. In Switzerland, an imprint obligation similar to the German provider identification has been in force since 1 April 2012. In the imprint therefore the contact data, as well as the address from the general settings are automatically adopted and displayed, markers are used for this. The imprint must be completed by the administrators according to the legal requirements: 'own content' > 'edit content'. In Germany, among other things, the provider identification obligation must be fulfilled.
Info Legal Service Partner: With the Trusted Shops Seal, you as a shop operator create trust in a customer who does not yet know you and thus increase the conversion rate in the shop. The second important pillar is legal security for the operation of your e-commerce system. Your shop and your legally relevant documents such as terms and conditions, cancellation policy, imprint, privacy policy, … will be carefully checked. You will also receive marketing materials from Trusted Shops.
Your system is Trusted Shops pre-certified. You are faster on the market, receive discounted conditions and benefit from special discounts.
If you are located in Germany or supply the German Mark, your e-commerce system must also comply with the legal provisions applicable in the target market (this provision does not apply only to Germany). We have prepared a special preconfiguration for Germany:
Important settings for the EU (company headquarters or delivery address)
General shop settings
shop configuration

Order overview Display → on the order completion page
Show article pictures in shopping cart →

Edit article

Article price additional advertisement → ☑ Display VAT information → ☑ Show shipping info → ☑ Use basic price

Customer info/revocation/AGB

→ ☑ Should the text for customer information / cancellation instructions be displayed during the ordering process?
→ ☑ in the e-mail. (Please also write a corresponding text.)
Furthermore, we must activate an information message for countries outside the EU which informs the customer of additional costs such as customs and taxes on the order completion page:
Countries of delivery and shipping
Edit country group → ☑ Show additional costs info
Note: Please make sure that article names describe the essential characteristics of an article!
Via Own Contents - Edit navigation – Create new entry – Page with content – Type = Page with content – Page = Shipping and payment insert the entry (e.g. with Infolinks).
In addition, the EU-DSGVO Directive has been in force since 25 May 2018. Configuration details can be found here.
Search engine optimization
Your shop offers automatic search engine optimization for all shop data, in particular categories and articles, as well as static pages. Thus articles are optimally prepared for search engines.
But the most important thing is that you register your shop with all relevant search engines, otherwise nobody comes by… For Google, the login URL is as follows (you need to create a free Webmaster Tools account):
https://www.google.com/webmasters/tools/submit-url

After all articles have been entered, you should click in 'Article' → 'Mass mutations' on the button so that search engine optimization uses all articles (all articles that do not yet have a virtual file name are given a edited name here).

If you like, you can also create a sitemap2 and link it e.g. at the Google Webmaster-Tools; this is highly recommended.
Your first order has arrived?
We have written instructions on how to process incoming orders and what to pay attention to:
Run on your own domain
Run your webshop on a domain of your choice. Switch to the Swiss21.org portal and click on the gearwheel in the shop and select "Settings".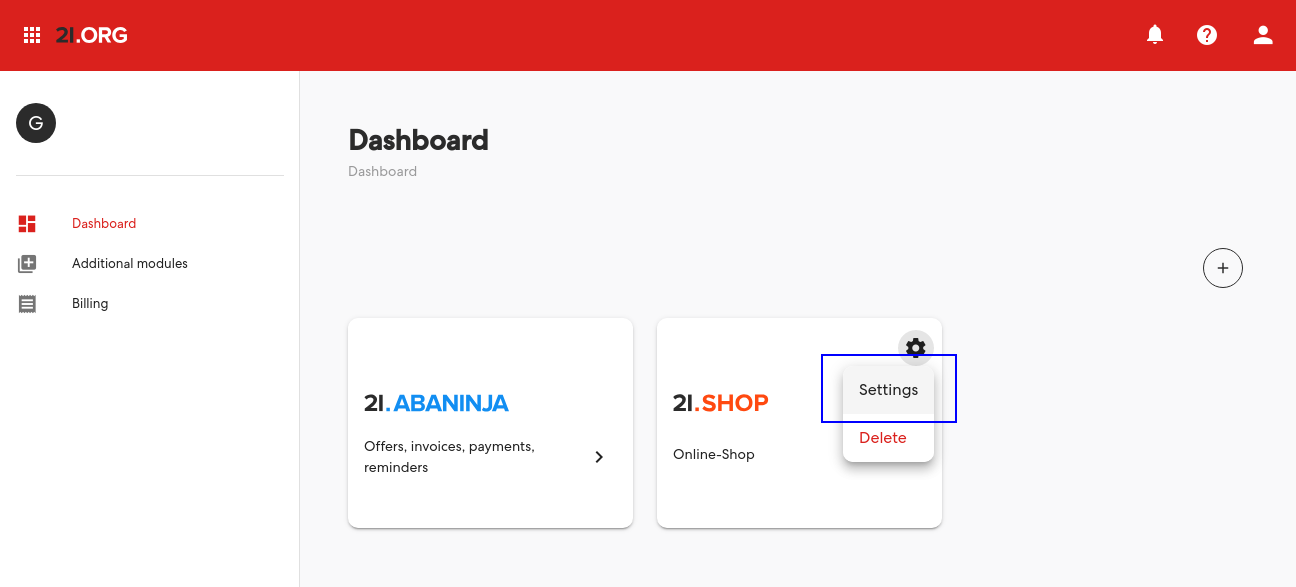 Figure 2: Configure settings
Now you can make the setting here to activate your domain already registered with a provider.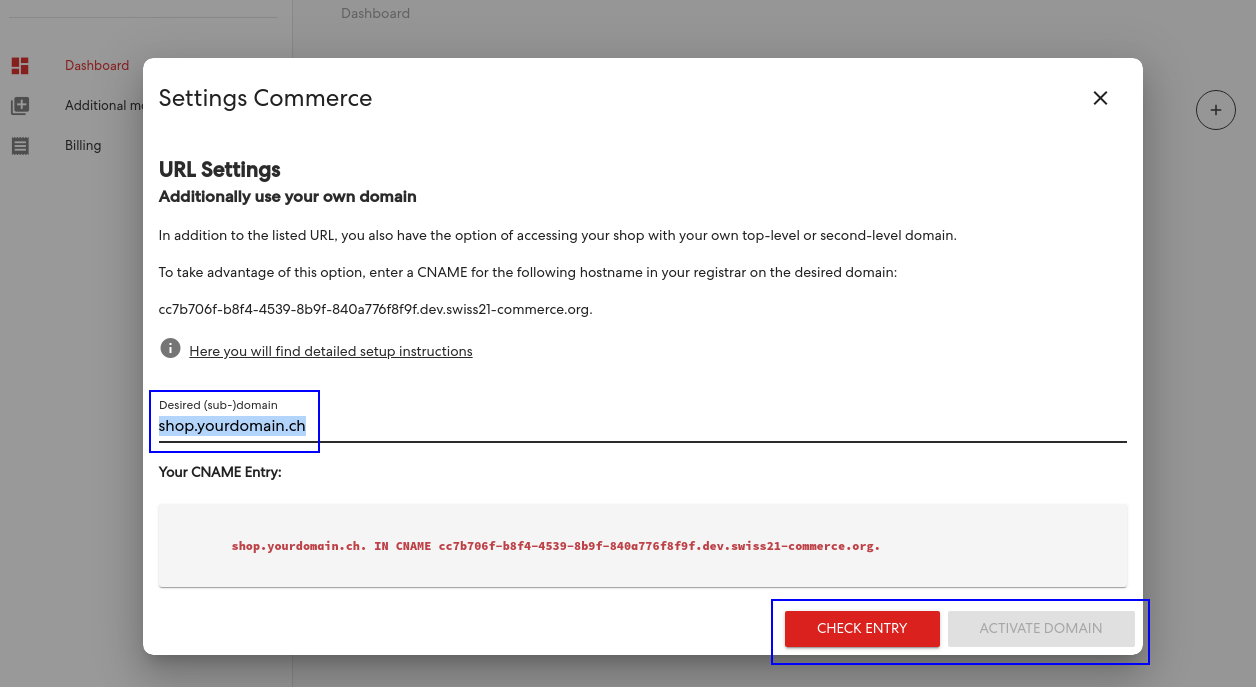 Figure 3: Check and register your own domain
Send e-mails with your own mail account
By default, email from your shop is sent from noreply@swiss21-commerce.org. Of course, it looks better if you let the webshop send mails from your own mail account.
Use an existing email account for this. You will need so-called SMTP settings for your account. Contact your provider where you host your domain or your mail provider who hosts your email account.
In the shop administration go to Shop settings – General settings and open the E-Mail SMTP settings for your own mail dispatch area (see also Figure 4). Enter your SMTP data here. Please also fill in your desired e-mail address in the upper right corner of both fields.
You should now confirm your entries by clicking on the "Save" button.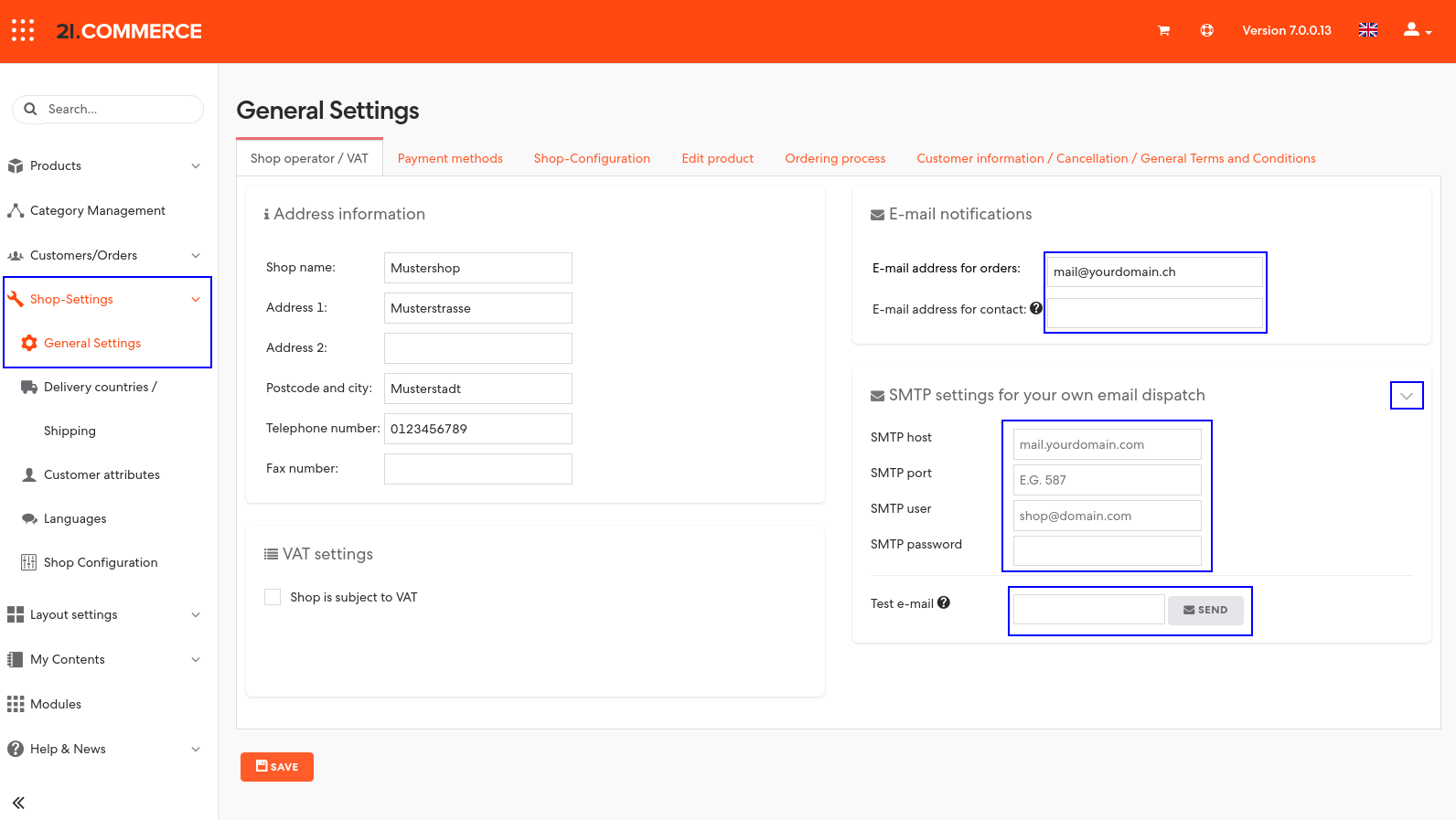 Figure 4: SMTP e-mail settings
If everything worked fine, the shop system confirms the saving process with a success message in a green bar.
Now you have to test your data. Proceed as shown in Figure 5 and enter a mail address where the shop system should send a test e-mail. Check the result: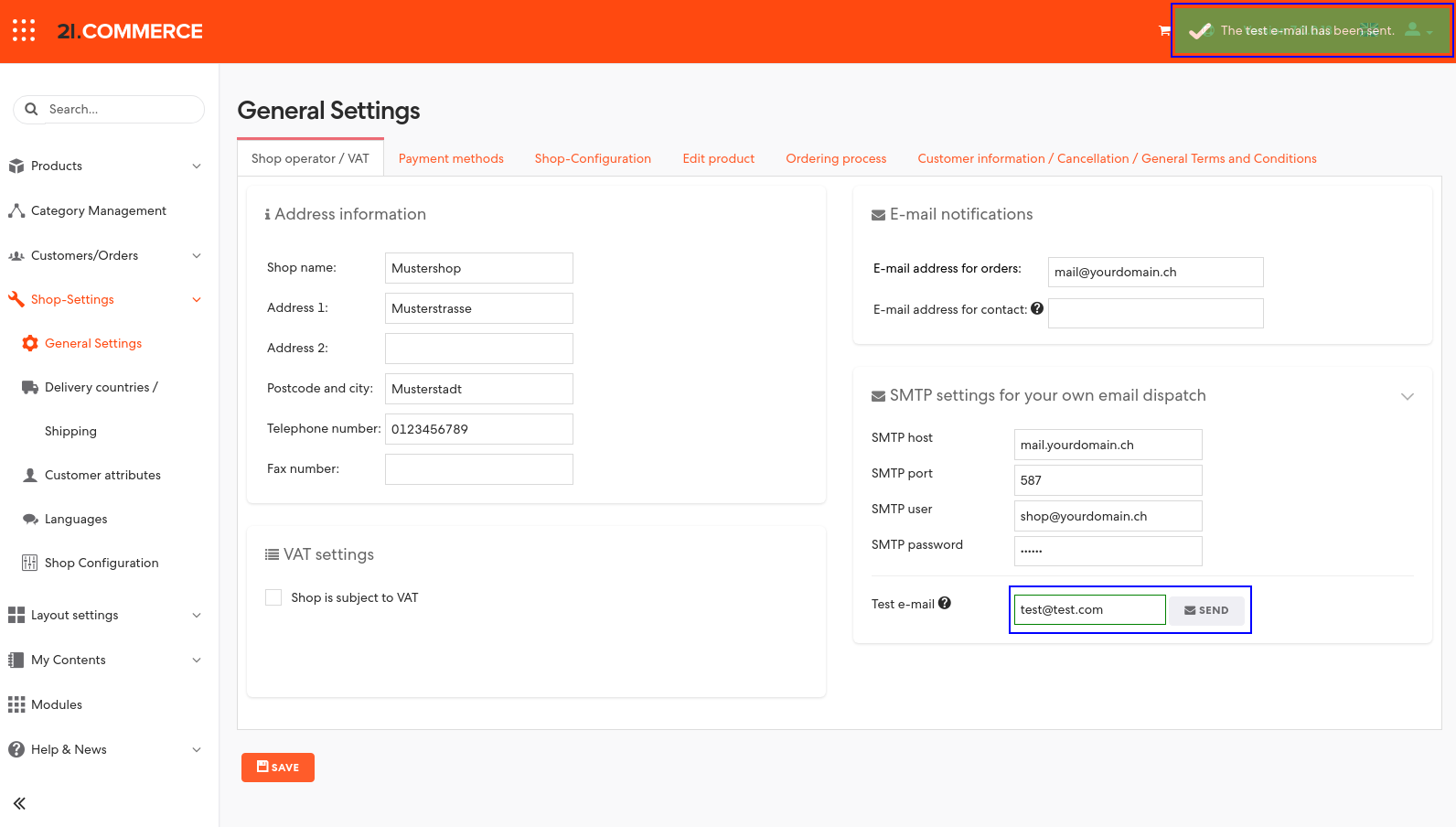 Figure 5: Send test e-mail
Customizing PDF documents
PepperShop can generate PDF based documents (cash receipt or delivery note). If you use these documents, we recommend that you customize the look&feel to your needs. To do this, download a "background" PDF document into your system. Your 21.COMMERCE shop/cash register will then apply the user data to this PDF.
Places with PDFs to upload:
Delivery note: Shop administration → Modules → PDF
Webkasse: Shop Administration → Modules → Webkasse → Configuration
* Only available if the system 21.POS (POS solution) is active in the Swiss21.org portal.
Get the latest information
The e-commerce trade takes place in a rapidly changing environment. New technologies are constantly becoming important or there are new legal frameworks. We recommend you visit Swiss21.org and peppershop.com
Web checkout with 21.COMMERCE POS
Use the free, web-based POS solution 21.COMMERCE POS. A "First steps" guide to checkout can be found here:
Questions? Any ambiguities? We are here for you!
Simply use a request in the chat in your system administration to get answers.

---
Create variants as your own articles, for example, with your own warehouse stock: instructions parent / subarticle. ↩︎

Shop-Administration: "Articles" → "Mass Mutations" → "Sitemap" ↩︎