In AbaNinja, it is possible to store one or more bank accounts from Swiss banking institutions and use these for invoicing or paying supplier invoices. You have the choice of simply storing your bank information or, with a bank connection, also importing the account movements automatically and transmitting payment orders to your bank account.
You can store several accounts from the same bank as well as from different banks. Bank accounts with foreign currencies (e.g. EUR or USD) can also be saved.
New Bank Account
Every new AbaNinja account receives a placeholder labelled Incomplete under Finances > Banking. You can use this placeholder to enter the banking information for your account.

Or select New bank account and enter your IBAN on the following page.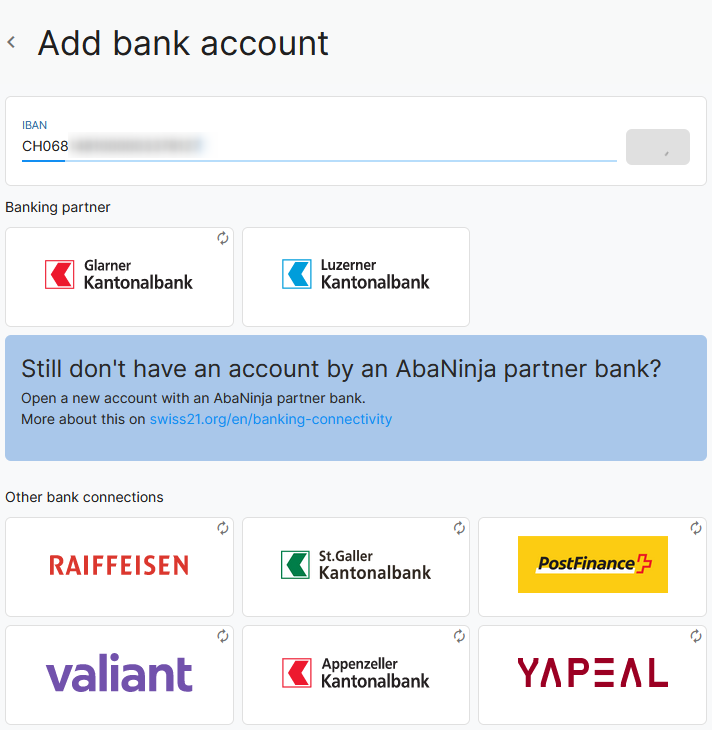 As soon as you have entered your IBAN, the system checks which bank it is and automatically fills in all data such as address or BIC/SWIFT in the entry mask. You are free to choose the account name.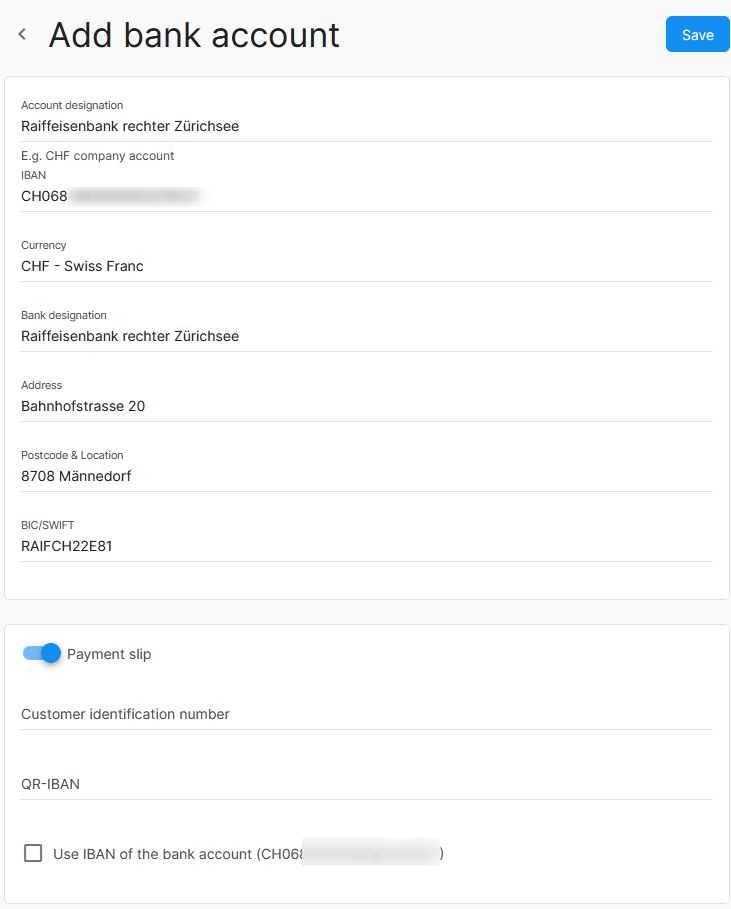 After saving, you can already use this account for invoicing or decide whether you also want to use this account to generate payment slips and store your QR-IBAN.
Note: In AbaNinja you have the option of storing the bank information of all Swiss banking institutions. Each account number (IBAN) must be stored individually, even if they can be assigned to a joint contract. The bank accounts can also belong to different banking institutions.
Edit bank account
You can edit your bank details at any time. You can make the bank connection at a later date or activate and deactivate the payment slip function.


However, please note the following:
If you would like to change the IBAN or QR data, we recommend that you set the existing bank account to Inactive and create a new bank account.
A bank account can only be deleted if it has not yet been used for any documents (customers, suppliers) and bookings have not yet been made.
Bank accounts already in use can only be set to Inactive status.
The reason for these points is that the use of the bank account on documents and bookings creates connections that are required for the automatic functions of AbaNinja. If the bank information were to change completely, this could have unwanted effects on your existing documents and bookings..
Supported banks
In AbaNinja you have the option of storing the bank information of all Swiss banking institutions and using it for invoicing or paying bills..
Bank connections are possible with over 70 Swiss banks. You can find more information here: How do I set up a bank connection?