Are you new to AbaNinja and want to take the first steps towards automated accounting, simplified invoicing, paying supplier invoices and automatic reconciliation of your account transactions? In this article we describe how you can get started with AbaNinja in the most effective way.
Configure AbaNinja
We generally recommend that a Swiss21 or AbaNinja account is opened by the company owner or administrator.
When you start the AbaNinja app from the Swiss21.org portal for the first time, you will be prompted with a setup wizard where you can enter your company data step by step.
The correct selection of your company form is very important here, because the account set of the standardised AbaNinja chart of accounts depends on it. This selection cannot be changed afterwards.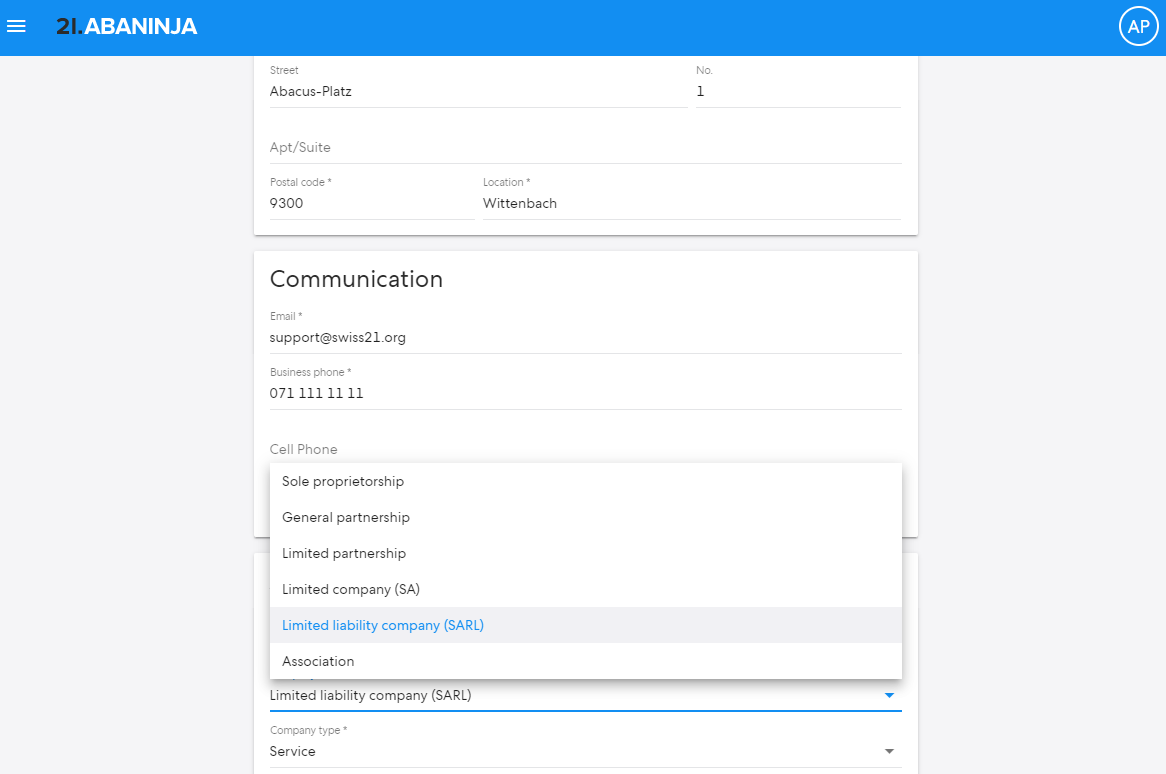 Possible business forms are: Sole proprietorship, general partnership, limited partnership, limited company (SA) limited liability company (SARL) and association.
The Industry field is for statistical purposes only. If you are registered in the commercial register, you should find the corresponding designation on your extract from the commercial register.
We also strongly recommend that you select the correct VAT liability and Billing Method. Sollten Sie im weiteren Verlauf bereits erste Buchungen in AbaNinja tätigen, ist eine Änderung ebenfalls nicht mehr möglich.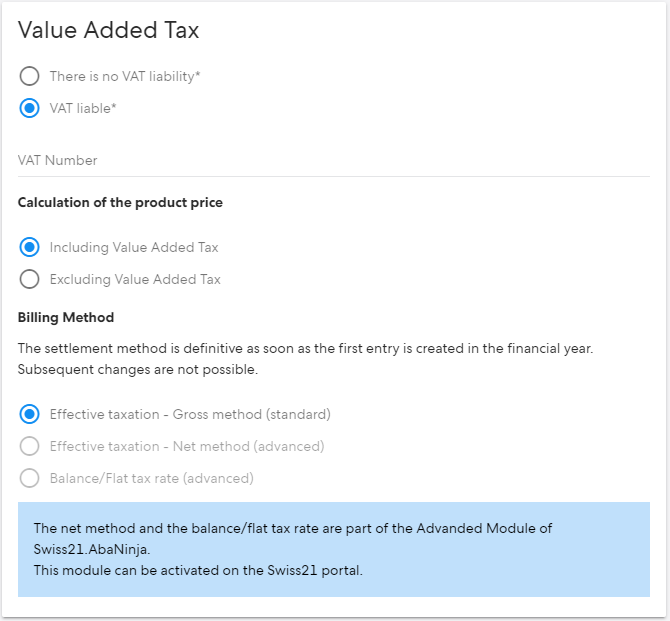 Settings
It is recommended to complete the following areas in the AbaNinja settings right at the beginning:
Company data:

This information can be displayed in the Document Designer or on your documents.
Upload your document here.

Document Designer:

Individualise the deign of your documentand define which information should be displayed where.

Customer Invoices or Supplier Documents:

Define the number range of your documents.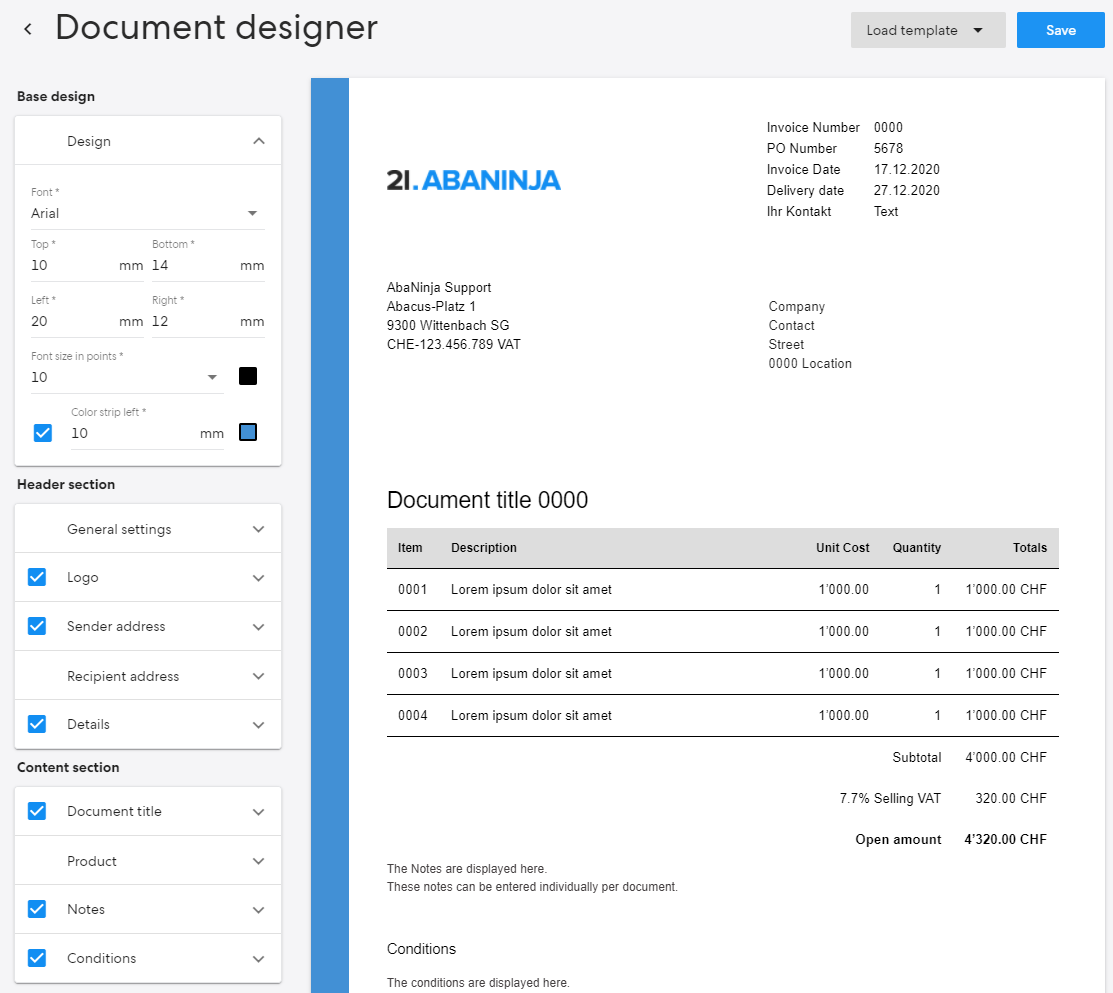 Import products and/or addresses
Are you switching from another software to AbaNinja and would like to import your addresses or products? Under Settings > Master data > Data import / export you can import addresses and products into AbaNinja using our templates.
Important: Please download our templates and update them with your address or product data. Basically, we do not recommend adding additional columns to the template, as we cannot guarantee a smooth import otherwise.
We ask you not to import files that were created in external systems. Please also note that statistical data (revenue of a customer etc.) cannot be imported.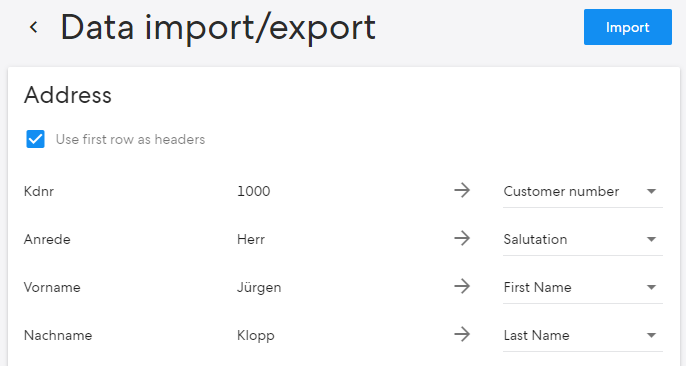 Enter addresses
In addition to importing, you can also enter company or private addresses manually. Thanks to our interface with the commercial register, you can easily search for a company and have the data entered automatically.
Important: In AbaNinja there is no distinction between customer or supplier addresses, invoice and delivery addresses.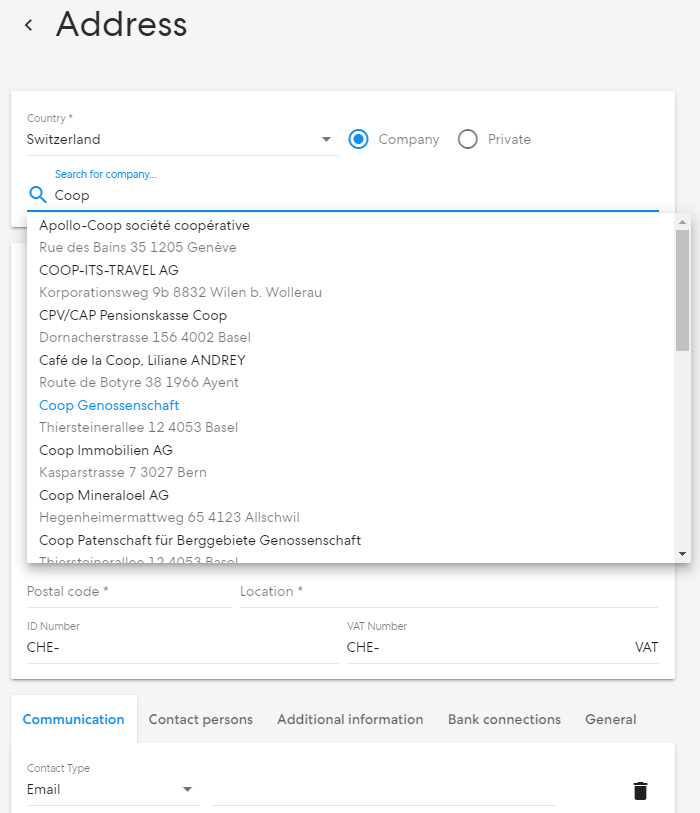 Bank connection
in AbaNinja you have the option of storing the bank information of all Swiss banking institutions and using it for creating or paying invoices.
There are interfaces to over 70 Swiss banks, which you can use to automatically import your account transactions and send payments directly to your e-banking. AbaNinja automatically compares the imported payments with your open customer and supplier invoices and then marks them as settled.
Enter products
Products simplify the creation of offers, order confirmations, delivery notes, invoices, credit notes, recurring invoices and invoice templates. When creating an invoice, you can simply select and apply the products by using the product selection.

Note: You can also easily create manual items and assign manual prices. However, for automated accounting it is recommended that you create products..
Create & send documents
Once you have completed all the previous steps, entered addresses and, if applicable, products - you are ready to make your first offer or send your first invoice! You can convert or duplicate a document at any time with just one click.
Offers: Define in the settings whether offers should be converted automatically when your customers accept them in the customer portal.
Orders: Under Time Recording, services can be created for your customers (addresses), collected in an order and invoiced at a later date.
Invoices: Send invoices by e-mail oder eBill (requires AbaNet add-on module)to your customers, Insert a QR-payment slip or import invoices from an external system. Your customers can also pay their invoices by PayPal or credit card.
Recurring invoices: Do you want to send your customers the same invoice every month or quarter? Simply set up a recurring invoice and let AbaNinja send it automatically.
Supplier invoices & payments
With AbaNinja, paying supplier invoices requires just a few clicks. Simply import a PDF invoice and AbaNinja extracts all the relevant data and transfers it to the entry screen. With the AbaNet add-on module you also have the possibility to receive invoices from your suppliers directly in AbaNinja.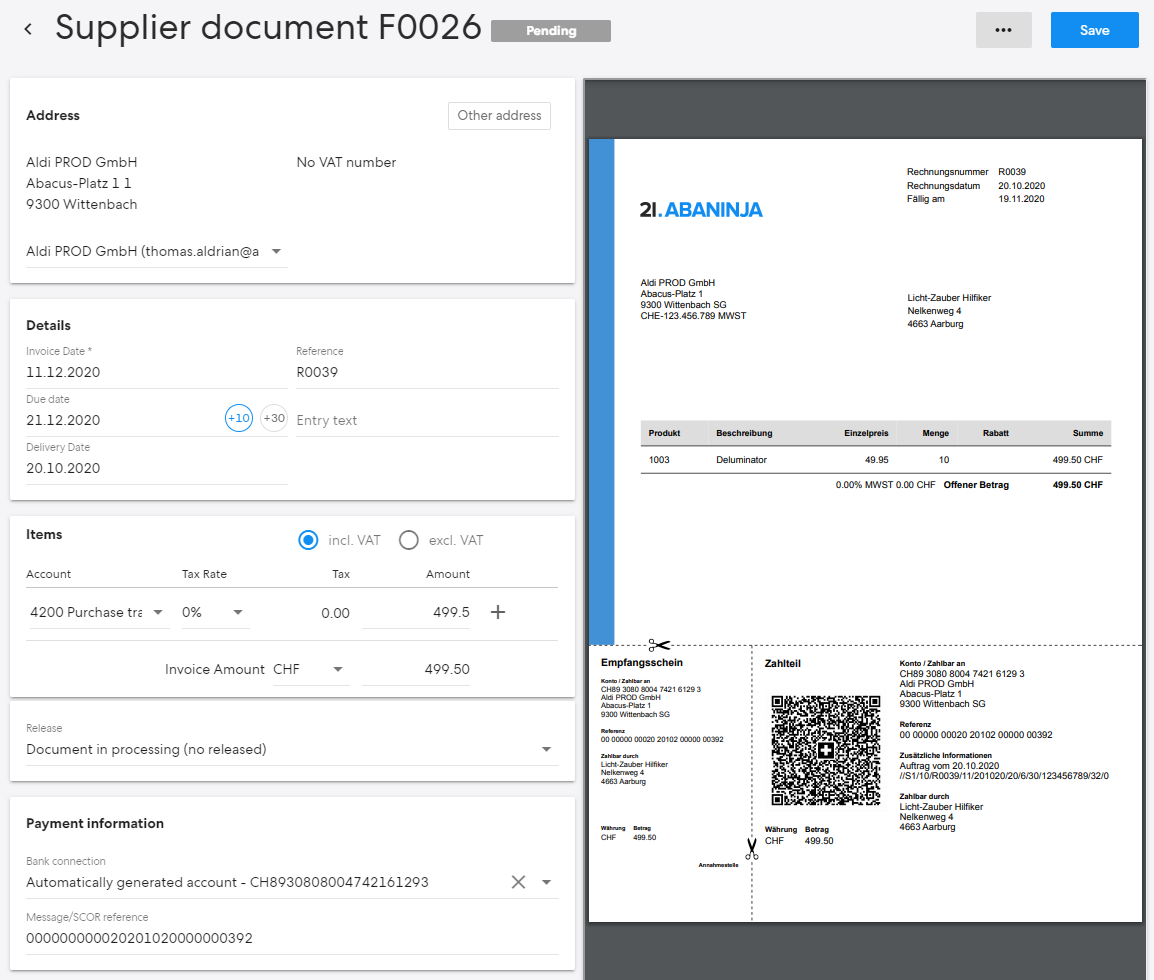 Then create a payment order, send it directly to your e-banking or export a payment file.
Automated accounting
AbaNinja automatically manages your accounting using standardised account and entry proposals - with or without VAT. Enter in the account statement or entry journal yourself or conveniently make simple corrections.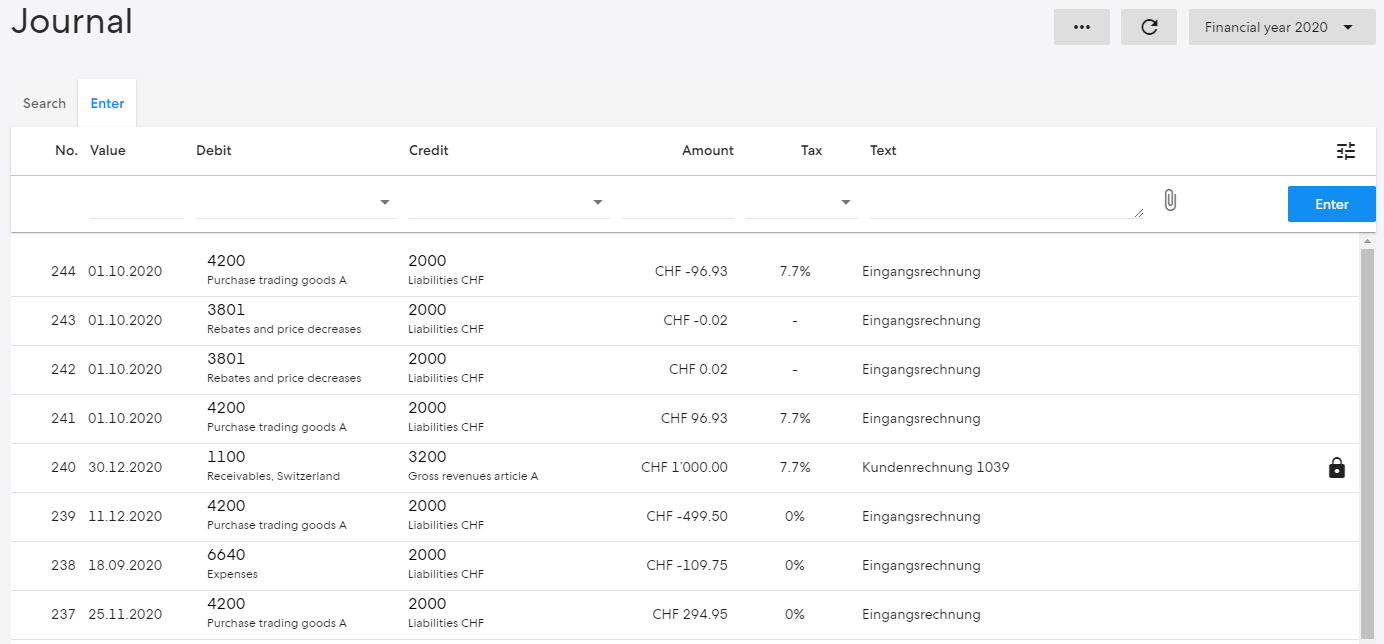 The outstanding items list provide you with a quick overview of open customer or supplier invoices.
The simple balance sheet and income statement keep you in constant control of your business.
Working with your fiduciary is simplified and a connection to Abacus Financial Accounting is also possible
Tips
AbaNet add-on module:
Send eBill invoices to your customers' e-banking.
Recieve supplier invoices directly in AbaNinja.
AbaClik (expense entry, service recording):
The expense process has been simplified and automated with the help of artificial intelligence. When processing an expense receipt, the app is able to automatically read and independently post information on the amount, VAT and point of sale with the help of character and text recognition.
Own e-mail sender
Set up your own return address.
Abacus connection

The connection of AbaNinja to Abacus Financial Accounting makes working with your fiduciary efficient. Receipts and data are automatically transmitted and recorded.