With the following configuration you can enter the hours worked by your employee with an hourly wage.
Level of employment

Under "Employee" - "Level of employment"
First set up the payment method, in this example "Hourly wage". Then define the payment type "Regular (monthly payment)" or "Irregular". This setting is important if the employee is liable to withholding tax.

Then enter the "Level of employment".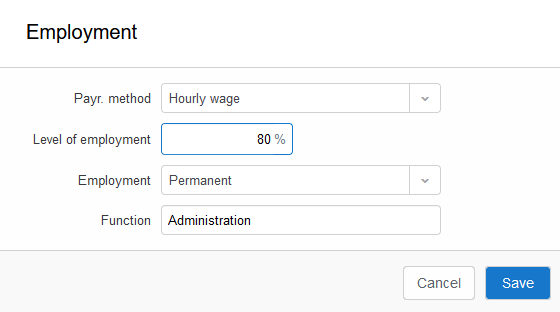 Payroll data

Under "Employee - "Payroll data"
It is important that you enter the hourly wage according to the employment contract and/or according to the guidelines of the CLA (example: basic hourly wage CHF 25.00). The vacation / public holiday entitlement is calculated and accumulated in a base hidden in the background and also applies in the case of a 13th month's salary. Vacation / vacation compensation (obligatory) and/or 13th month's wage (optional, but see also CLA) will be paid out if the wage type is activated on the tab "Wage data - Settings wage type".
First variant
This first variant can be performed through the "Payroll" section by editing the person's payroll as follows:

Use the pencil in point 1 to overwrite the previously entered number of hours. In point 2, simply enter the hours your employee has worked during the month.

Second variant
In the employee's wage data under "Hours / Absences / Expenses", select the wage type "Hours worked" and enter the number of hours worked. Under "Hourly wage rate", enter the amount specified in the employment contract.

Often the hourly amount does not change, then you can use the "Frequency - Period" function when editing the component. This will avoid the need to configure the employee's hourly rate every month.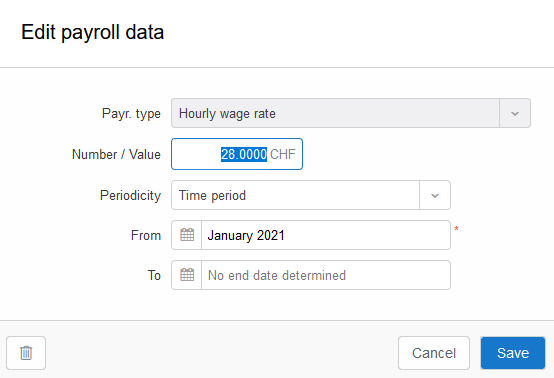 However, if you need to record multiple hourly amounts with different rates, there is the "Hourly Wages" component located under "Compensation / Deductions" (or directly in Payroll) that you can use to do this.

If this setting is used, the entry of the rate in the "Hourly wage rate" component is optional.
Note
If you enter an hourly wage rate, you can leave 0 for the rate in the "Hourly wage" component; the rate configured in "Hourly wage rate" will be applied during settlement.