In order to activate ELM 5.0 and thus be able to transmit the data to Swissdec without any problems, some settings are required. You may have already entered some of them.
Basic company settings
ELM 5.0 is activated via Company > Company > Settings > ELM Definition. The status can only be activated after all required settings have been entered.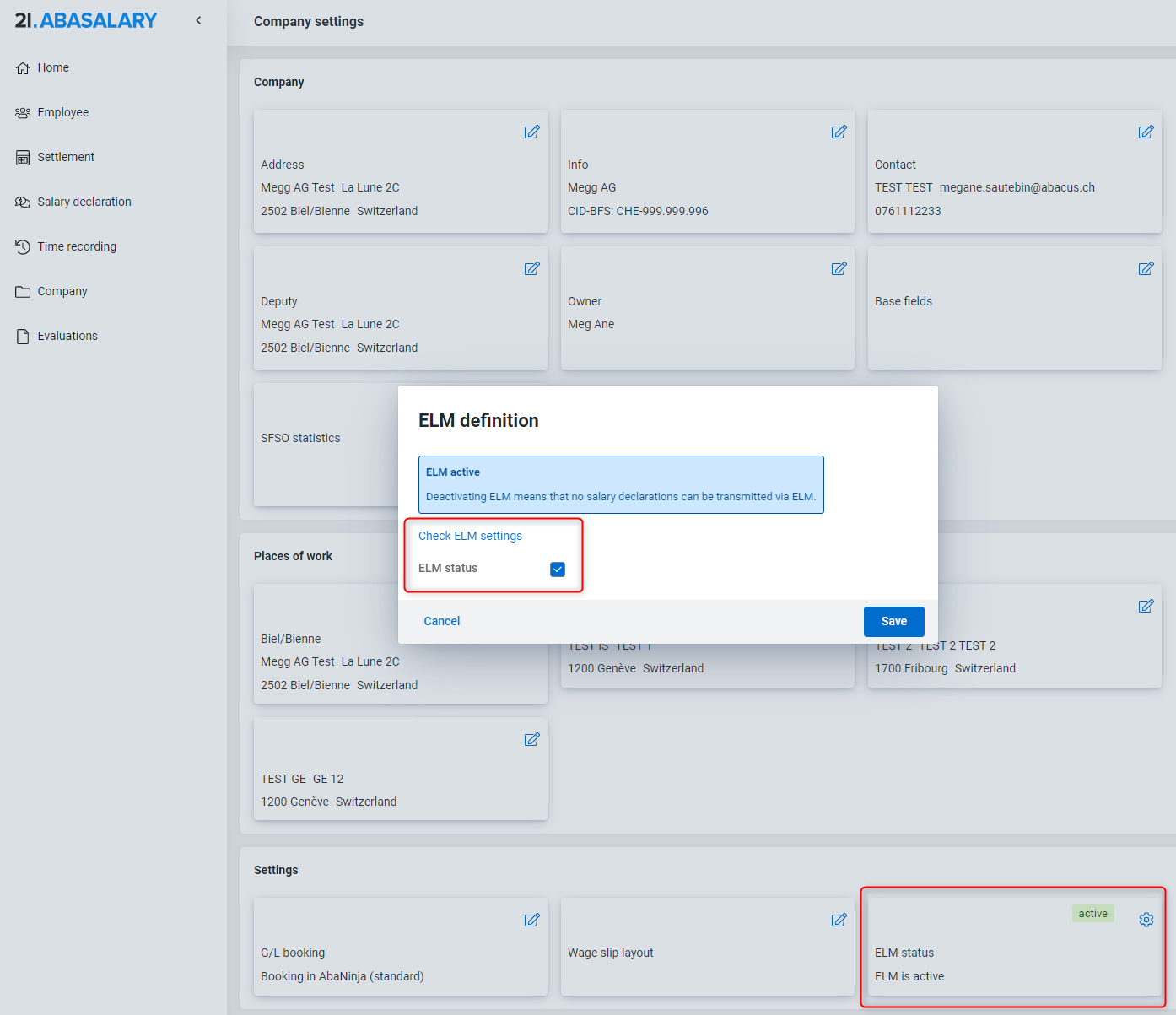 By clicking on the link "Check ELM settings", the program suggests you complete the missing data:

The status "Completed" means that all relevant data has been entered correctly. The status "Open" means that data still has to be entered in order to activate ELM. The information to be entered is the following:
Company ID (UID):
The company's UID number in the format CHE-xxx.xxx.xxx must be provided. You can find a UID via this link https://www.uid.admin.ch/. If this is not available, tick the box "Unknown".
QST customer number:
For each canton, you must enter the customer number (or SSL) assigned to you by the cantonal tax administration and specify whether the withholding tax is to be transmitted electronically (ELM) or on paper.
Contact details:
The details of the person who can be contacted should the data recipient have any queries are entered here.
BfS: Number of days of holiday:
In this window you indicate how many days of holiday your employees are entitled to. If necessary, you can add more rows to the table (e.g. 25 days from age 50).
BUR-Number:
This number is available on request from the BfS. The number format is tested by AbaSalary and must begin with a letter (in case of doubt: A). Via the link https://www.uid.admin.ch/ you can log in with your access data, which you will receive from the BfS on request, and retrieve this number.
As soon as all data have been entered and all statuses are set to "Completed", you can return to the ELM activation by clicking on "Back to overview". There you activate the ELM status by ticking the appropriate box. By doing so, you ensure that the company's master data is complete.