ELM activation

ELM can be activated centrally in the company settings. The customer specifies for the individual insurance policies whether the notifications should be sent via ELM. By default, the sending of wage notifications is activated; the customer must deactivate it manually if they do not wish to do so.

Warning: We recommend that you do not activate the FSO monthly process. The process is designed for large companies. The effort required to manage the master data exceeds the time saved for the payroll administrator. If the company is randomly selected for the statistical survey, the LSE report can be issued.
Dispatch of a monthly report (ELM)
EMA notifications will be sent (if available)
Fee notifications will be sent (if available)
SFSO notifications will be sent (if available)
During end-of-month processing, the electronic wage notifications for withholding tax and the monthly statistical data are prepared and sent. The EMA reports for withholding tax are also sent.
Monthly notifications via Menu >Settlement
You can also send monthly notifications via the Settlement section. If the current month is definitely settled (status: definitely), an ELM monthly message can be sent directly;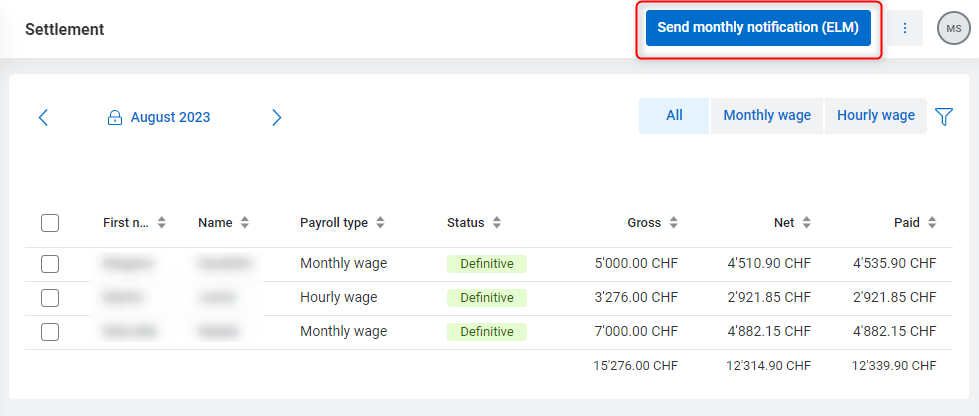 Once the button has been activated, a verification message appears on the screen to let you know if there are any potential errors.
Note that once the button has been activated, it is no longer possible to go back and the declarations are sent definitively.
Despite this step, the status of the declarations remains "Definitive".
Monthly notifications via Menu > Salary declaration

The process of electronic wage reporting is not yet completed when the reports are sent. All previously sent notifications are listed under Salary declarations/Wage notifications. The status of the messages is "Continue", which means that the process has not yet been completed. The customer can always follow the same procedure here to complete the wage notifications.

Clicking on the data record (e.g. Canton Bern (WT)) opens the side panel. The wage notifications can be edited there. Basically, the customer can proceed with the notification by clicking on the blue button"Check for confirmations" and performing the respective required action;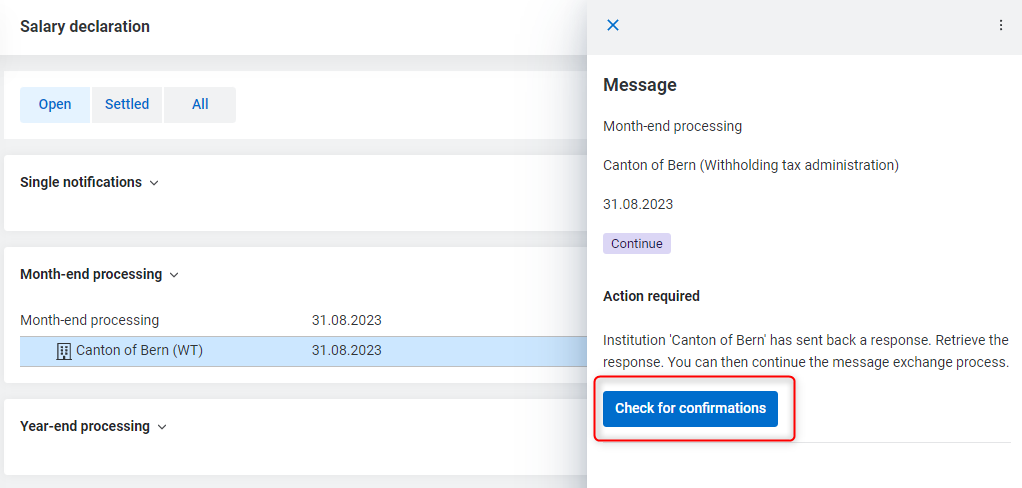 The customer continues until the message is marked as "Settled". The process is then completed and the message switches to the completed wage notifications.
When the electronic wage notification process is completed, all previously sent notifications are listed under the heading Salary declaration / Wage notifications. Their status is now "Settled" and means that the transmission process has been completed.

Monthly notifications (declarations)

The following institutions are listed among the monthly notifications:
Compensation office: entry and exit notifications
Withholding tax: notifications of entries, withdrawals and changes as well as monthly notifications
Federal Statistical Office: Monthly reports if the SFSO process is active.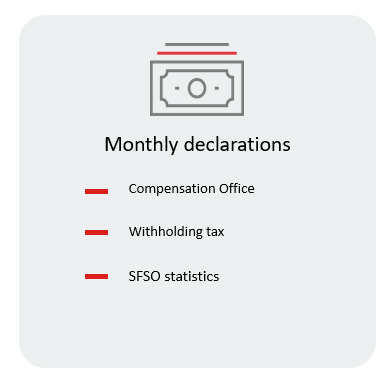 You can find more information about ELM in the following article: ELM Einführung